About Kitchen 1B
If you love comfort food but also want to eat healthy, Kitchen 1B is the place for you.
Our food is made with carefully selected ingredients that are bursting with nutrients and flavor, so you can feel your best without sacrificing taste.
Innovative Cuisine
Well-Balanced and Nutrient-Dense
Our menu is a celebration of well-balanced and nutrient-dense cuisine. We believe in the power of food to nourish your body and soul.
KITCHEN 1B HERO DISHES
Discover our Hero Dishes - culinary masterpieces that define excellence. From exquisite starters to hearty mains, each dish is a work of art that showcases the best of Kitchen 1B's flavor and nutrition philosophy.
Exclusive at Apartment 1B ARYA for Dine-In
We're excited to announce that you can now savor the goodness of Kitchen 1B at Apartment 1B ARYA. Our flavorful and health-conscious menu is available for dine-in at this iconic location.
Join us for a unique culinary journey that blends gourmet delights with a commitment to your health and well-being.
Kitchen1B Life
Step Into Our Wholesome Kitchen - Your Ultimate Resource for Nutrition and Wellness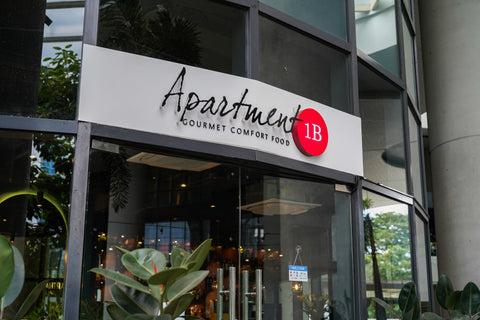 In the heart of Metro Manila, amidst the bustling cityscape, you'll find Kitchen 1B—a culinary oasis tucked in the cozy...
Apartment 1B and Kitchen 1B have partnered to offer customers in Metro Manila a diverse range of dining options that combine gourmet comfort food and healthy meal plans, providing delicious food that is also good for their health.